Three die suddenly from rare Lyme disease complication - NBC News.com
See on Scoop.it - Lyme Disease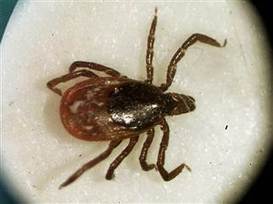 One was found dead in a car that veered off the road. Two others collapsed and died suddenly without warning. All three may have been…
For everyone out there who thinks having Lyme is like having a bad cold— this article shows that Lyme can be deadly. I had a neighbor who had this, but survived— we live less than five minutes from the hospital thankfully— and his wife found him unresponsive in the shower. He'd only been a bit worn out. He could easily have died.
I'd hazard to guess that there are many more victims from Lyme carditis than have been actually recognized. It's terrifying too that these victims were going to be used for tissue transplant— the victims could have been more than just one if a compromised person received Lyme-ridden tissue (Lyme is a spirochete, and travels through tissue more easily than the blood stream, so this would be a surefire way for someone to become infected). As my doctor says— you don't get Lyme from sitting in a couch all day, so the victims are typically young and/or very fit and otherwise "healthy." The chances of them being viable donors is therefore high.
Lyme is an ever-growing risk throughout North America, and our antiquated view of its supposed mildness and ease to cure is going to blow up in our faces. How many people have to suffer— and how many have to die— before we lay aside our ridiculous for-profit politics and realize that there are victims here?